If you are able to take the Heart Forgiveness Process with a facilitator

this is your best option.

If not, Heart Forgiveness – The Book is your next best option.
For the suggested donation amount listed, you get immediate access to the digital download.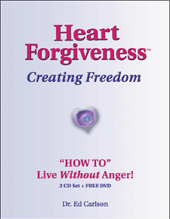 Heart Forgiveness™ – The Book (Digital Edition)
How To Live Without Anger – Heart Forgiveness takes the Participant through the processes of energetically clearing glitches with Others, Self, God/Creative Force; and learning to live Unoffendable so you are not controlled by anger. This offer includes  the 2 MP3 Album Set.
$32.89
Heart Forgiveness MP3 Album only (2 MP3 Set @ $8.97ea.)
$17.94